Other Festivals
Dancers from Reading have attended (and helped organise) many festivals over the years. Here are a few to jog your memory. Please add in any others you can remember:
Berkshire Midsummer Folk Festival
Our own local festival, the
Berks Midsummer
has a page of its own.
Sidmouth
RUUFDS people have been involved with the
Sidmouth Festival
on many occasions: as stewards, display teams, and treasury assistants as well as plain old punters.
Christchurch
We went a few times to
Christchurch Festival
. Some photos turned up at the Reunion weekend.
1968 Holland & Belgium
Holland
In June 1968 we went to a festival in Warffum, Holland. Here's the programme cover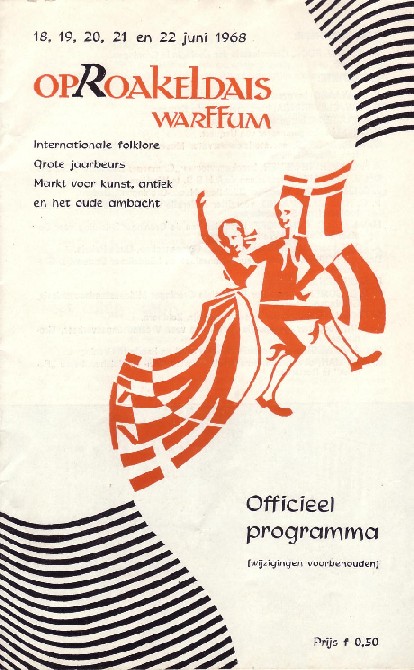 and here we are dancing Holborn March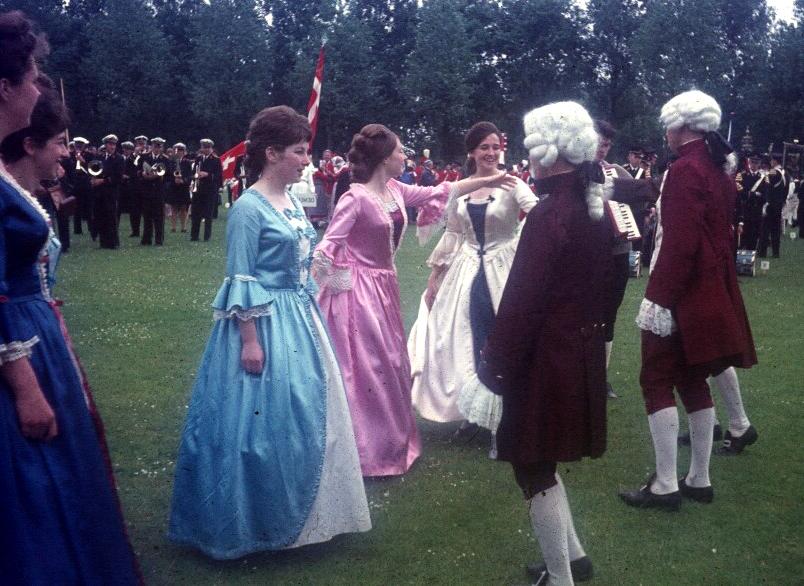 This is what they said about us in the programme THE READING UNIVERSITY PLAYFORD DANCERS UIT READING (ENGELAND) Deze groep dankt haar naam aan de Engelse uitgever John Playford, die in de 18e eeuw in drie boekwerken in totaal 918 countrydansen verzamelde. Deze countrydansen zijn oorspronkelijk weidedansen, maar later werden zij op wat hoofsere wijze ook aan het hof gedanst. De salondans werd er zelfs door verdrongen. De Playford Dancers vormen een groep van 12 personen. De begeleiding gebeurt met viool en accordeon. De leiding is in handen van Mary Gosling. The programme lists us as dancing Nonsuch, Newcastle, Kemp's Jigg, Lull me bevond thee (yes a 'v' not 'y'), Chelsea Reach and The Maid in the Moon. Of teams from 9 countries out side Holland, we were one of only two who got our picture in the programme!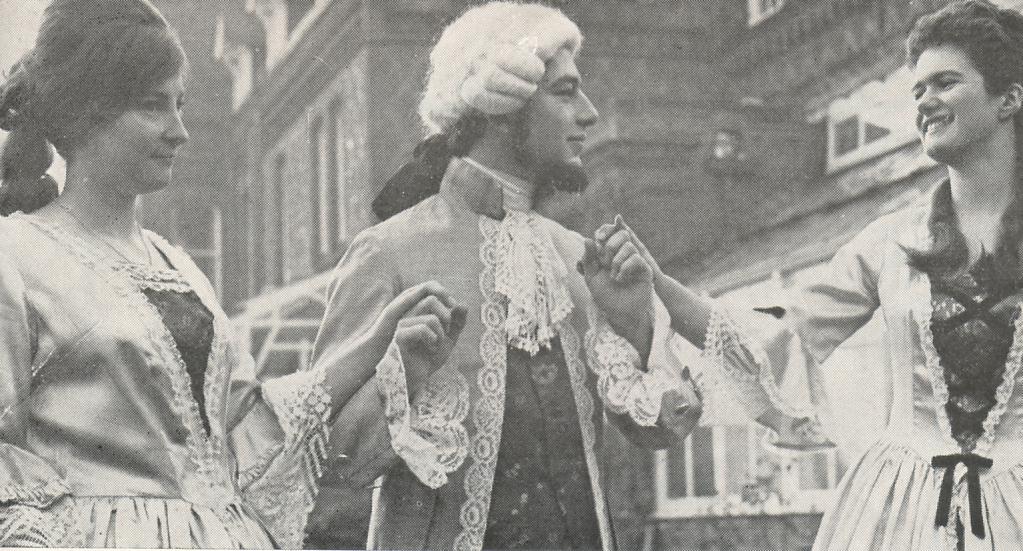 Belgium
Keith Broughton recalls some details of the visit the following month to Belgium "we visited Spa in The Ardennes (some sort of town festival). My main memory is our staying in a sort of cafe place on an island in the river, which was reached via a chain ferry. We commandeered this ourselves. From there we went on to a place in the German-speaking part of Belgium - I cant remember the name of the place - [can anyone else help?]. There we took part in a rather wierd witches festival." The scrapbook records the Belgium visit programme as
15th July - Phippeville
16-19th July - Spa
20-21st July - Vielsalm
22-23rd July - Yvoir
24-27th July - Leuven
We mainly stayed in Youth Hostels, though at Phippeville it was with families in the town and in Yvoir the men stayed in the school gym and the ladies in an empty house. The events generally paid the Youth Hostel accommodation bill - until we came to Leuven visiting their university folk dance society, who didn't have the funds. It was all dip in pockets time. The team was Stuart Ball, Keith Broughton, Mike Clark, Malcolm Clarke, John Fletcher, Ian Graham, Brian Jones, Dudley Savage (guest musician), Brian Senior, Malcolm Thomson, Mike Walton, Peggy Barber, Pauline Bruce, Judy Clarkson, Mary Gosling, Margaret Jeremy, Margaret Piper, Angela Rowe, Jill Searle, Jackie Shepherd and Linda Stewart.
BrianJones
23rd September 2004
1969 Belgium
Keith remembers - "In 1969 we also went to Belgium - Phillipeville in the French-speaking South, followed by an international festival at Schoten in Flanders. I have a few specific memories. In Philippeville we were staying in private homes. I remember being woken up in the middle of the night to watch the TV of the American landing on the moon. Most of the brits were pretty blase about it, but our hosts were really enthousiastic and the champagne was opened. After that, we had a lesson in Belgian politics. Our guide from Phillipeville decided to come with us to Schoten - I think he fancied one of our girls (Peggy?). On driving into Brussels he said ' we are now entering Belgium. I hope you enjoy yourselves'." "At the Schoten festival we were teamed up with a Polish group for a tour of the locality. I remember sitting next to the Polish team leader on the coach and holding a 'conversation' in German. He was in fact a party minder rather than a dancer. On learning that we were all students, he replied that they were all 'workers, arisans and peasants'. At one town we visited, we were treated to a speech from the mayor who told us that instead of wars and arguments ' we should roll up the carpets and dance'. This was followed by four national anthems : Polish, British, Belgian and Flemish, with our hosts particularly joining in the last one! At least the polish schlivovitz was good. Happy days." Celia Bonner has added this - "Schoten (July 1969) was major festival. We showed Playford, Scottish and English dances, the latter including a sequence choreographed for the occasion by Brian Jones. Our performances were appreciated but we were hardly the hit of the festival \x96 four of us doing \x91Hey Boys\x92 in the middle of the vast stage could not compare with rows of perfectly drilled East Europeans in shiny boots stamping and whirling about. In the afternoons there was social dancing and this is where English dancing proved a real success. One team would demonstrate a dance and then everybody would attempt it, with the demonstrating team splitting up to partner those from other groups. On the first afternoon when our turn came we chose Cumberland Square Eight. As usual the chaps lifted us off our feet in the basket - and immediately everyone wanted to try it. All the Hungarians and Romanians etc. seemed to be about 7 feet tall; when they came to the basket they lifted their elbows and we span round like helicopter rotors. After that every afternoon the crowd, asked for their requests, shouted \x91English! English! Cumberland! Cumberland!\x92 We tried other dances with some success but \x91Cumberland\x92 was what they really wanted. It\x92s a wonder nobody got their teeth kicked out\x85 " In November 2007 we had an email from an ITV company who planned to make a documentary about the Man Landed on the Moon. This triggered a few more memories - Malcolm Thomson recalled - I remember being put up at a hairdressers and the night of the moon landing was, I think, the day that we arrived in Phillipville. My memory extends to sharing the momentous occasion with 3 or 4 increasingly drunk French (Students? Hairdressers?), who insisted we stay awake (was the landing at 2am?) the whole time to witness the historic moment. They attempted to do this by plying us with alcohol, which in retrospect was probably not a good idea. Anyway we did actually witness the event, also on a small television so perhaps you and I were with the same hosts Brian. But for me mankind's giant step paled into insignificance in comparison with the great time we had at the Festival. Anybody got pictures of Phillipeville or Schoten? Yes - this was scanned in at the reunion weekend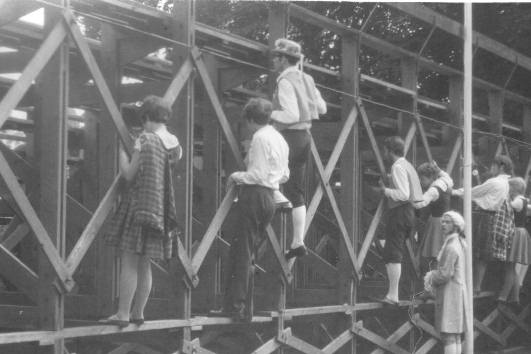 --
BrianJones
7 Aug & 6 & 17 Sept 2004
Monte Carlo
Then there was the minibus drive down through France to dance in Monte Carlo.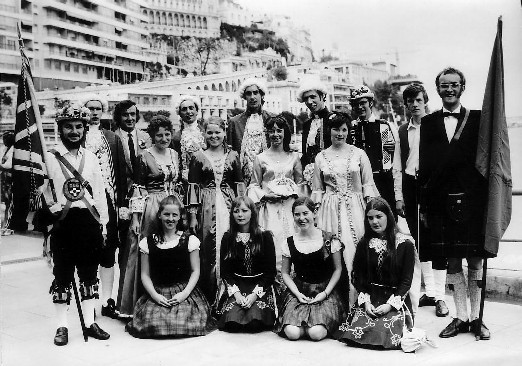 Left to right, front row - Barbara Heatherington, Linda Henegan, Sheila Scullard and Julia Feeney; middle row - Jackie Shepherd, Susan Spraggs, Sandy Wilby and Pauline Bruce; arcing round them - Brian Jones, John Leary, Tony O'Sullivan, Bob Wheat, Pete Gregory, Ian Howard, Ian Graham, ?? and Malcom Clarke. Which year was that? --
BrianJones
13 & 26 June 2004
The Whit Tour
Whit Monday was, and still is, the day for a dance tour of mid Berkshire. In the 60s and 70s
Kennet Morris
and Icknield Way Morris would start in Newbury and work their way back to Sonning taking in Yattenden, Goring and Pangbourne. There were times when some of us got into EFDSS Festival Dress and took part. A freelance photographer obviously caught us one as our pictures appeared some time later on the cover of Let's Dance Country Style - one of the core handbooks sold by the EFDSS to schools and clubs.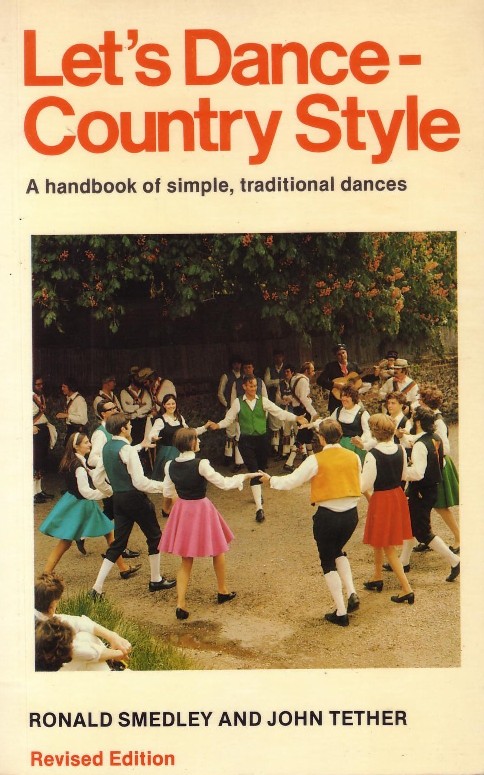 Sue and Terry Reeves are dancing in the group. Spot Ian Dunmur in the background.