+English and Scottish Dancing Whilst our main team performances were at festivals there were other occasions when we got together to perform.
Rag Day 1967
After the 1966 Rag Day
Marathon
we kept the 1967 contribution simple - we danced outside St Mary's Butts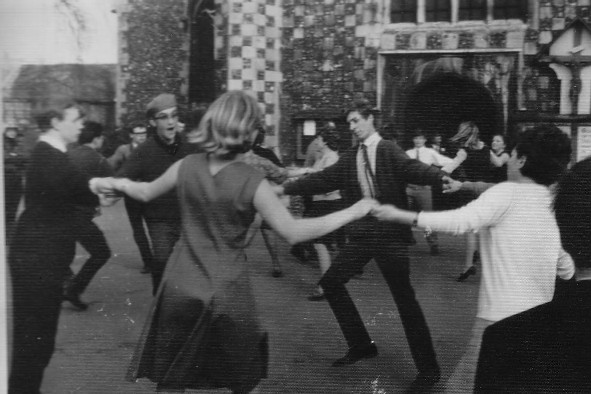 In the foreground - Colin Norton, Malcolm Clarke, Carol Butler, Ian Howard, Pauline Bruce - or is it Val Jones? In the circle behind them - ???, Mike Walton, Judy Clarkson, Stuart Ball, Celia Bonner, Barbara Hetheringtn
Putting on a show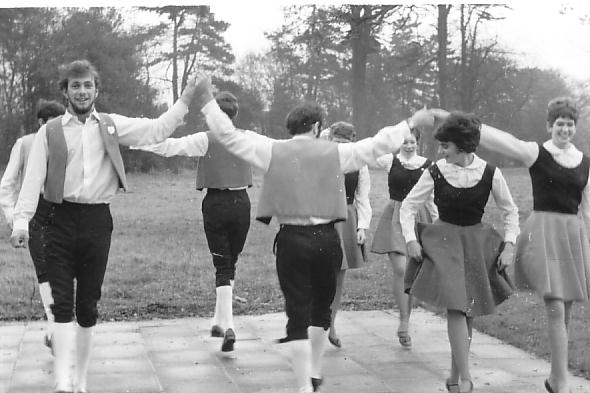 This is the English team from one of a set of publicity photos taken for the Belgium tour. L to R there's Bob Wheat, Brian Jones, Linda Stewart, Margaret Piper, then Taff Dennison, Keith Broughton, Jackie Shepherd and Pauline Bruce. More comments and photos here please! --
BrianJones
- 05 Aug 2004
RUUFDS Dances
Of course we origanised dances for members, other students and dancers from other clubs. They were pretty good value. Anybody work out the entrance charge at today's price?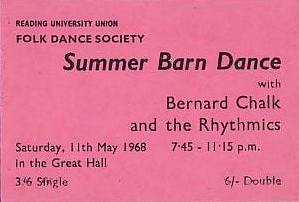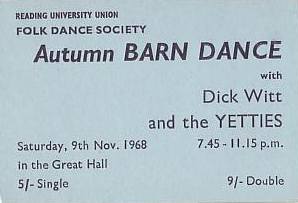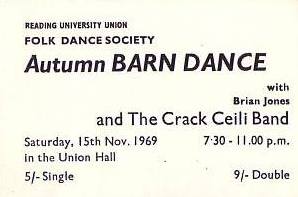 Cheaper prices for Doubles! You see that in the pub, but not at a dance these days.
International
It was great to see Stan Warren at the Reunion 2004. Of all the people there, he was the one that everybody agreed had changed least and was instantly recognisable. Stan was an essential part of the weekly meeting for many of us. Somehow one of the International records got into the archive.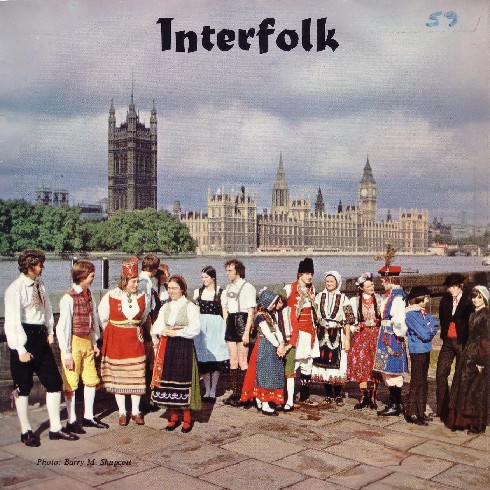 Scottish
So what about the Scottish? We seem a bit short of information and photos of the RUUFDS Scottish dancers - other than those you'll find on the IVFDF and Festivals pages. Can anyone help here? --
BrianJones
- 14 Aug & 24 Aug 2004 & 21 Sep 2005