Marathons
Setting the first record
In 1966 RUUFDS decided to take part in the university Rag Week by staging a Folk Dance Marathon. We danced in the car park of the Odeon cinema at the back of the Co-op (now where the Reading Travelodge is). We ended up dancing on the back of a float in the Rag Procession and ended in Morgan Road for the last dance 36 hours and 20 minutes after we started.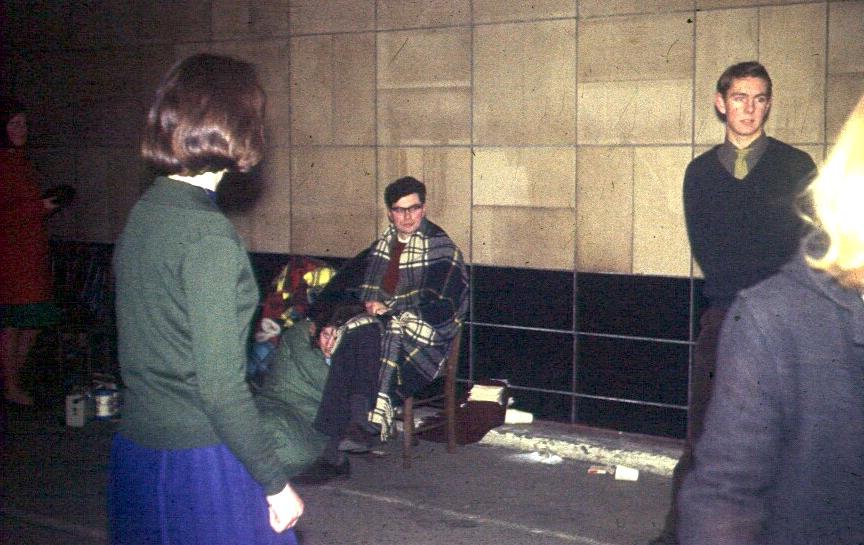 The overnight slot - Malcolm Thomson, Ian Graham, Barbara Heatherington (in the sleeping bag), Rosemary ? (with her back to camera)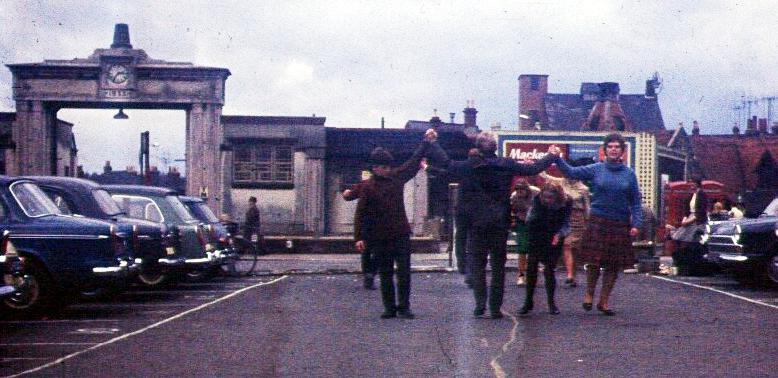 Dancing Morpeth Rant in the Odeon Car Park the next morning. Mary, Stuart, Celia - who has his back to the camera?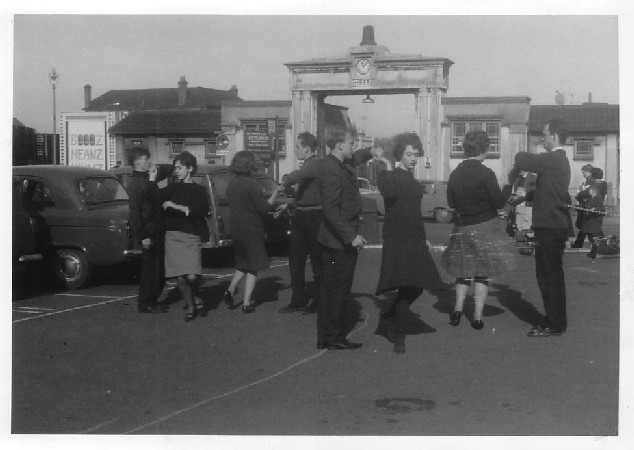 Stuart, Val, Jenny?, Steve, Who are the two in the foreground, Mary & Martin During the Saturday morning Colin Robertson brought some of his Scottish dancers along -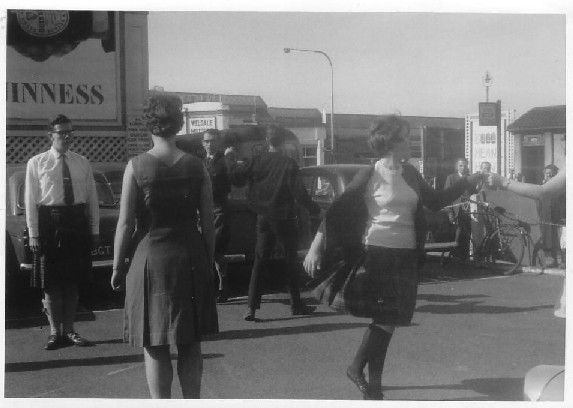 Gavin?, Mary, Colin, Malcolm, Joan - Joan is still living in the Reading area and teaches the Andrew's Scottish Dancers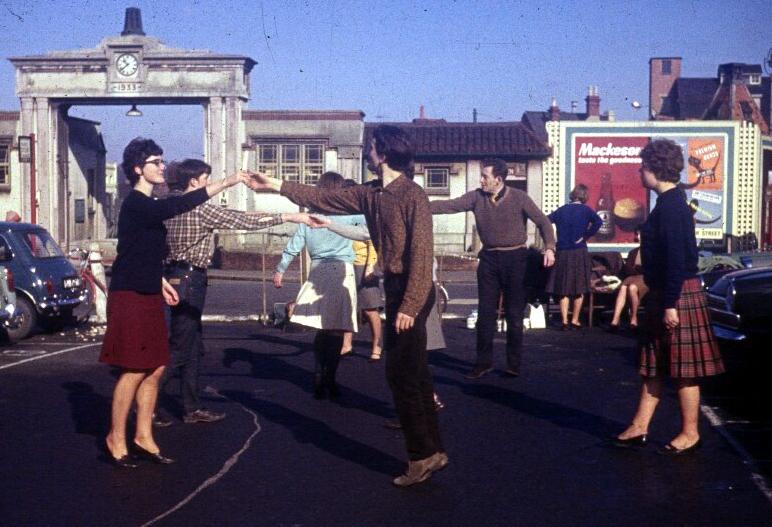 More Scottish with Mary & Trevor in the foreground - who is he dancing with?
The marathon had to end - not due to exhaustion - but because we danced in a float in the Rag Procession. Dancing on the back of a moving lorry is - different. We finished in Morgan Road. Got off, did one more dance and went home to recover.
Mexican Hat Dance Rag Float - end of the marathon?: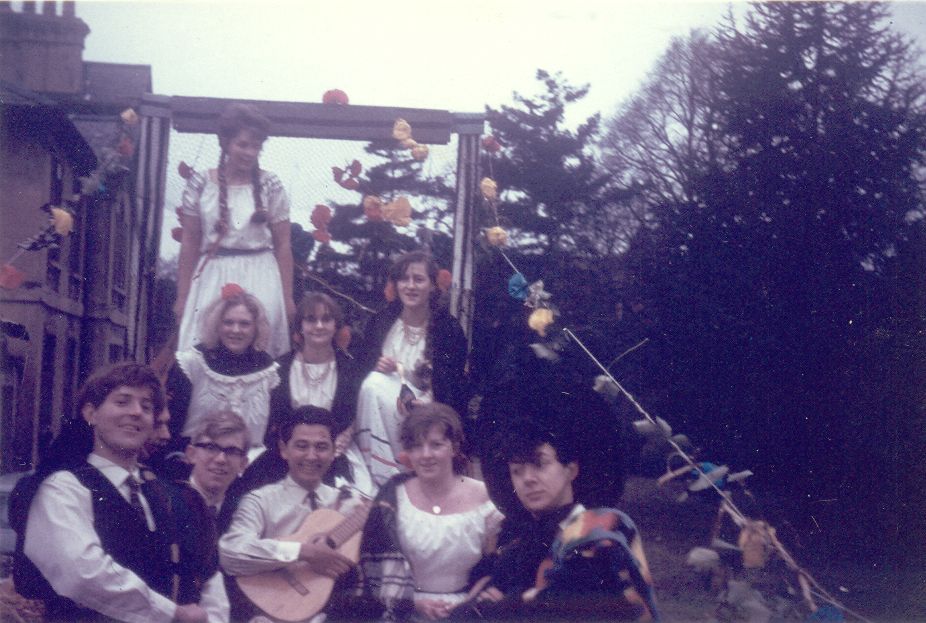 How long would the record last?
The record stood for many years - one attempt to beat it failed - but in 1983 it was broken - see below under from English Dance & Song Volume 45 Number 2 Summer 1983 'Congratulations'.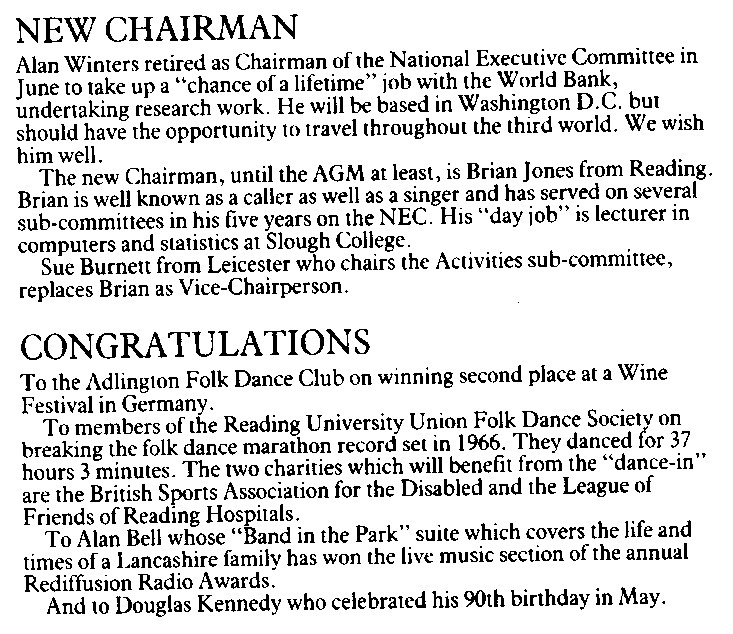 Oh the bit above it just happens to have a relevance to the reunion too. Sorry - I never can get magazines to sit exactly square in my scanner. There's a letter from Nibs Matthews (Director of the EFDSS) congratulating RUUFDS on the achievement in the scrapbook. --
BrianJones
- 03 Jun 2004 & 21 Sep 2005
The 1983 marathon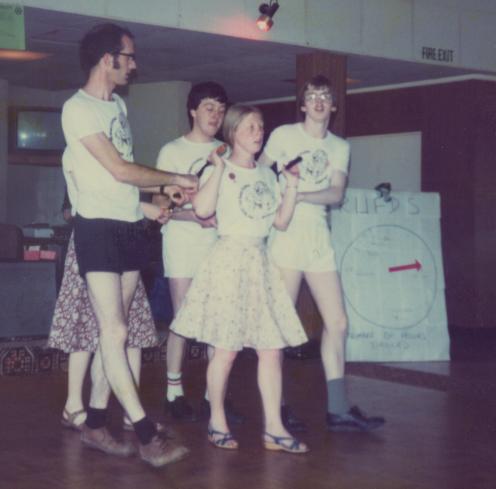 Dancing Rapper in the Union Coffee Lounge: Andrew Findlay, Martyn Tinnion, Jane Curry, Andy Shaw (and probably Marianne Wood out of sight behind Andrew)