+The Playford Team As you will see from the
Inter Varsity Festival
page we had a Playford Team in 1996 - but for most members it was the advent of period costume in 1967 that marked THE Playford Team. Having performed at the 1967 IVFDF we went on to dance locally and internationally at many events. We performed at 'Folk like Folk' in the Town Hall at Oxford on 6th May in a show produced by Denis Manners and Paddy O'Neil along with Headington Quarry Morris and Oxford City Morris. Songs came from a duo - John Kirkpatrick and Dick Musson. Ian Graham couldn't make it so John KP played for us. We strolled on to our entrance music, Hole in the Wall, but instead of the flowing strains Ian used to play we got such a jaunty rendition that it was hard not to skip on in much more rural manner than usual. John's enjoyment of our tunes showed and they quickly found their way into repertoire and onto his recording. In the picture below we are dancing at the Kennet and Avon Canal Trust Rally of Boats - probably May 1967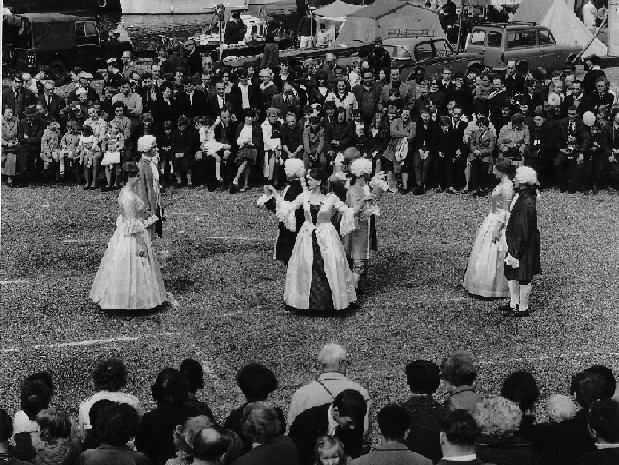 Again in Reading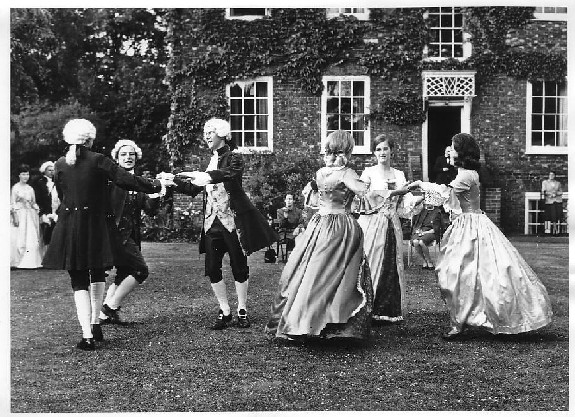 This is in the garden of Watligton House - it was a photo from the Evening Post, the code of which is 1940/67/BT-6. Given it wasn't 1940 -- could it have been in 1967? And indeed the scrapbook proved that it was - Monday 26th June 1967 in fact. It was a Champagne Party to raise money for a clockroom and kitchen for the garden hall. According to the report inthe Evening Post - Guests paid ten shillings to drink as much champagne as they liked! This had been donated by Counciller Bert Williams. The report noted that the audience watched one of the few groups in the country that followed the style developed at the time Watlington House was built, which was 1688. We danced at Folk Southern. Anybody say which year?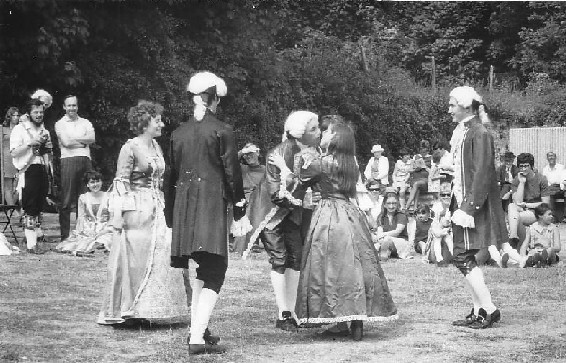 Maid in the Moon was always good for a photo. The dancers are Jackie Shepherd, Ian Howard, Bob Wheat kissing Sheila Scullard and hiding Sandy Wilby with John Leary looking on. You might recognise the Morris Man with a camera in the audience. We often made it into the papers. On March 9th 1970 this appeared under the headline "A 17th century kiss for student Pauline" -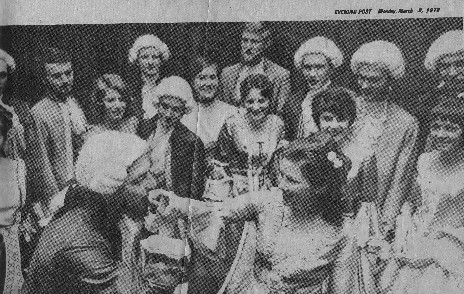 The picture was from the Playford Ball - held in Childs Hall and this is from the Evening Post on Monday 8th March 1971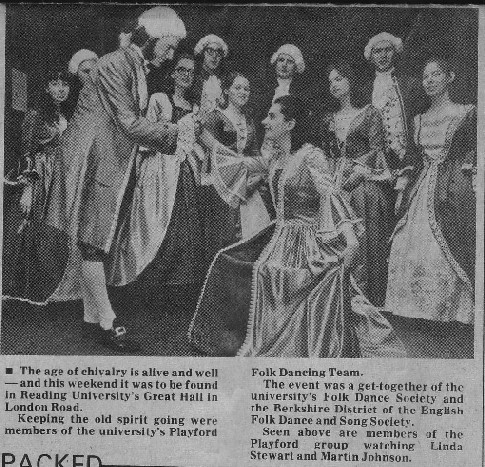 There are other photos on the website in the same setting as this one.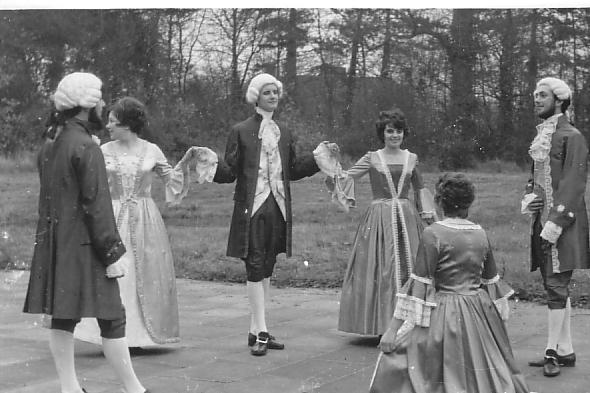 Pauline's lack of concentration gives away that it's a posed, probably for a publicity photo. When was this? Brian's additional note June 2005 - Before returning the scrapbook, I checked through it and found that the photo was taken by Tony Cooke for the Belgium Tour 1969. They are set in Foxhill. Trevor Rigg sent this photo in. He dates it as 1974, but can't remember where it was taken. Anyone remember?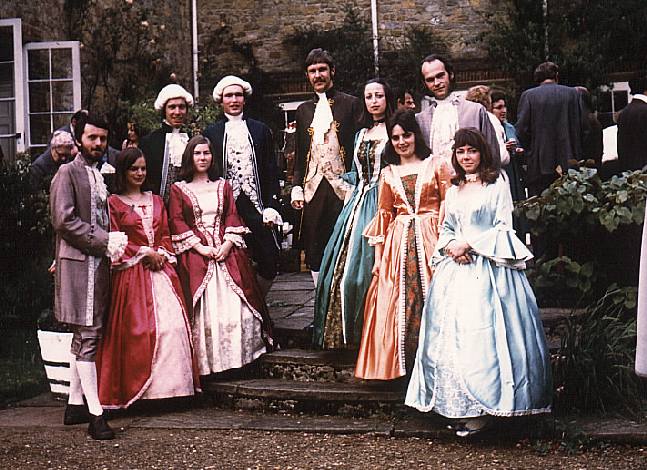 From left to right Trevor Rigg, Judy Jones [Banks], Ian Howard, Sheila Scullard, John Leary, Malcolm Thomson, Celia Bonner, Linda Johnson, [Stewart], Martin Johnson, Sandy Howard [Wilby]. Sorry it has come out a bit blotchy. He will probably have the original with him on the 11th! --
BrianJones
- 7 Aug 2004