IVFDF 1982
Reading volunteered to take on IVFDF after the financial disaster at Leeds the previous year. We said we would run it on a shoestring, but in the event we made a lot of money and established a reserve fund to be held separately from the working accounts. One early decision was to have a student in the Typography department design posters and programme leaflets. Tom Keeley was recommended, and he did a very good job (though we nearly had a fit when we heard what the two-colour printing had cost for the posters!)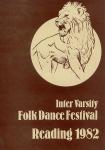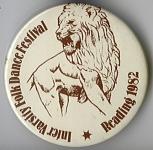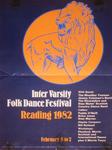 IVFDF 1982 programme leaflet
For those interested in the gory details, I have dug out the
budget plans and accounts
,
letter to the University Arts Committee
(asking for money...) and the
draft notes we wrote afterwards to help people running future festivals
. --
Andrew Findlay
The next bit was taken from the scrapbook by Brian Jones.
The IVFDF reception opened at 6.00 p.m. on Friday 5th February. At 6.25 the first team arrived. It was UEA's mixed Morris team - only another 588 people scheduled to follow. In one of the few quiet moments Rosemary, Chris, Sharon & Joan were captured by the camera.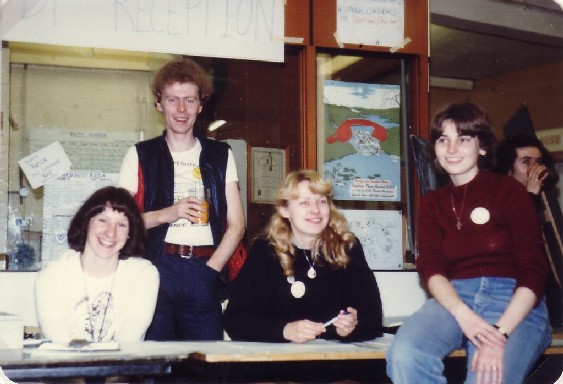 There followed two dances one with Stan Warren & The Riversdiers and the other with Andy Jupp's Hot Punch band. Even before the dances finished the organisers were wondering where everybody was going to sleep. The original plan to fit everyone in the Coffee Lounge was clearly impractical. In the end there were people not just in the Coffee Lounge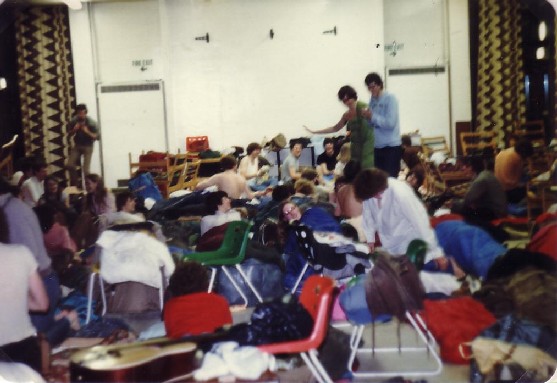 but also in the Main Hall, the Council Room and most of the corridors! The Saturday morning saw the despatch of 200 Morris dancers off to local dancing spots before the start of the workshop rpogramme. Paddy O'Neil ran the Rapper, Bill Forbes ran Beginners Scottish and Pete Gregory ran the Playford. The afternoon demonstrations began at 2.00 pm, compered by Bill Rutter. It started with Sussex International dancing Hassapikos and finsihed with the long awaited RUUFDS performance of their scarf dance - Real Time. Back to Andrew's account - Everyone was rather busy, but we still found time to field several display teams. This is one of them, but can anyone remember what the dance was?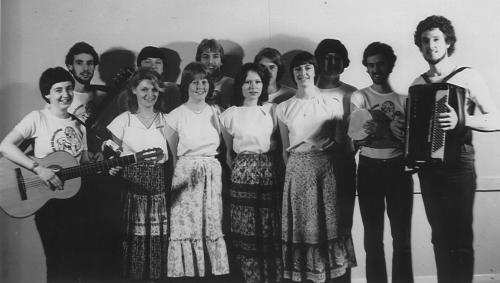 From left: Carrie, ??, ??, Martyn Tinnion, ??, Richard?, ??, ??, Anne Allen, ??, ??, Andy Jupp This was the last dance team in the afternoon display session: we had an extremely long scarf and danced to the
Dr Who
theme tune!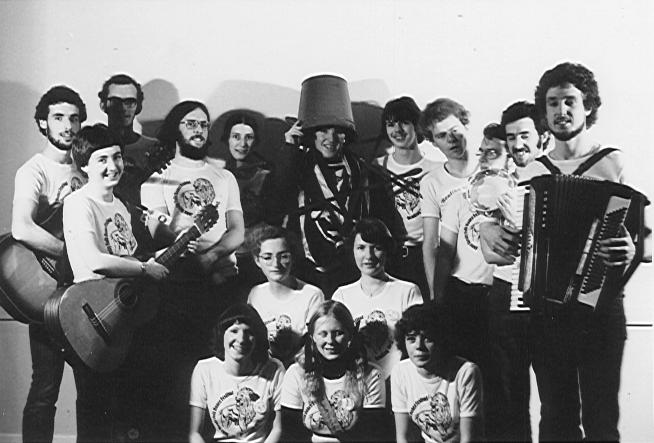 Back row: ?, Carrie, Andrew Findlay, Alan Charlton, Marianne Wood, Richard Baber (under the bucket), Andy Shaw, Chris Gwynne, Simon, ?, Andy Jupp
Sitting: Rosie Methold, Alison, Jane Curry, Catherine Wickens, ?
Sharon Latty
ran the clog workshop and also did a solo in the display session.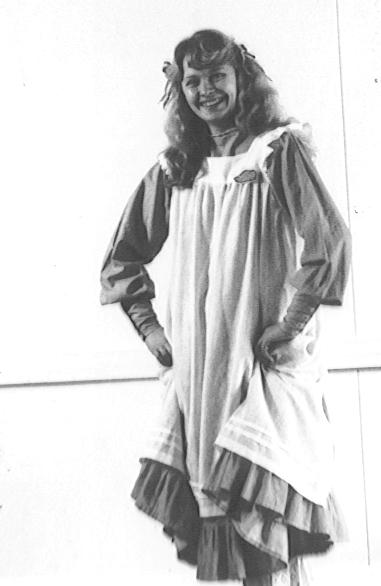 Sunday The weekend ended with a 10.30 Sunday morning 'Survivors Ceilidh'. Thoughout the morning musicians and callers from all over the country took to the stage to see the proceedins further on their way. It finished at one o' clock with the moost energetic dances. All that was left to do was tidy up - which was not a short operation and was completed just before closing time - and look forward to Nottigham running it in 1983! IVFDF 1982 t-shirt design: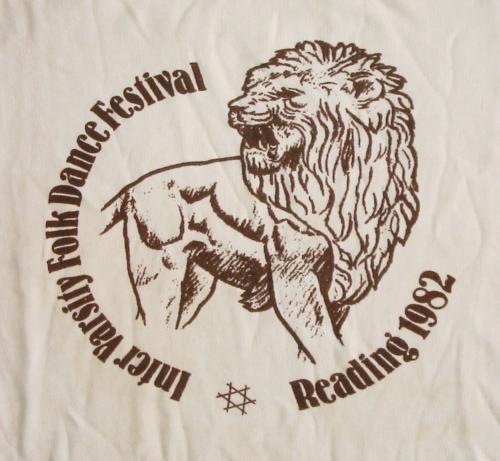 Read about other IVFDFs that Reading has attended
IVFDF 1982 poster: